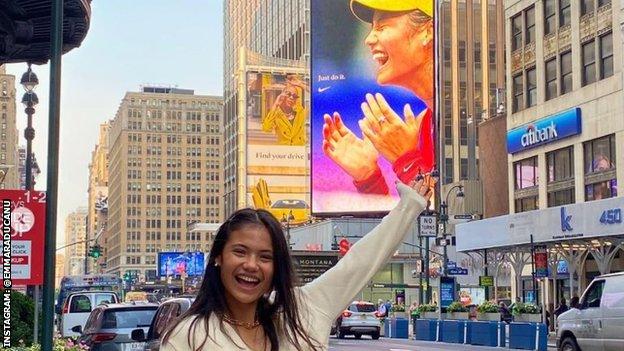 Less than three weeks ago, Emma Raducanu began battling for her place in the US Open main draw.
On Monday, she stumbled across a giant billboard of her face on the streets of New York as she squeezed some sightseeing between appearances on prime-time American breakfast television.
It is this unexpected, unpredictable change in circumstances that has made the 18-year-old's first Grand Slam title front-page news around the world.
Raducanu has not only made British history as the country's first woman to win a Grand Slam singles title in 44 years, but becoming the first qualifier to win a major means she has made tennis history too.
Despite the high stakes, the teenager has sailed through the past few weeks with a look of composed joy on her face and the fallout to the biggest win of her career has been no different.
Raducanu looked as poised as ever when faced with the Good Morning America panel in the show's Times Square studio and there she explained how she reached such levels of resilience so young.