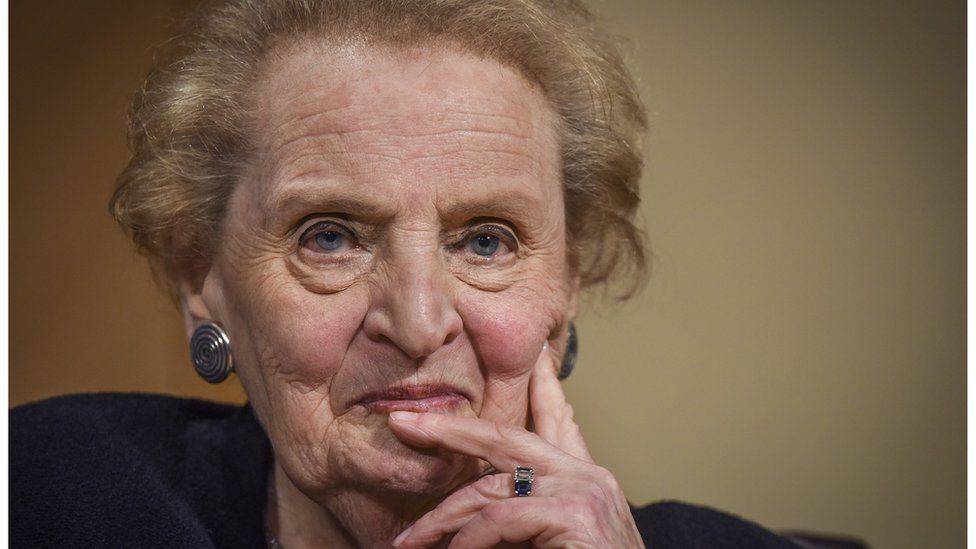 Madeleine Albright, a Czech immigrant who went on to become the first female secretary of state in US history, has died aged 84.
A long-time foreign policy veteran, Albright became America's top diplomat in 1997 during the Clinton government.
Often hailed as "a champion of democracy", Albright was instrumental in efforts to end ethnic cleansing in Kosovo.
Her death from cancer was confirmed by a State Department spokesman.
"The impact that she has had on this building is felt every single day," said Ned Price. "She was a trailblazer as the first female secretary of state, and quite literally opened doors for a large element of our workforce."
Among those to pay tribute to her after the announcement of her death was current Nato Secretary-General Jens Stoltenberg, who said Albright "was a force for freedom" and an "outspoken champion of Nato".
Former US President George W Bush said that Albright "understood first-hand the importance of free societies for peace in our world".
UK foreign secretary Liz Truss tweeted that the world "needs to stand by" Albright's values "more than ever".