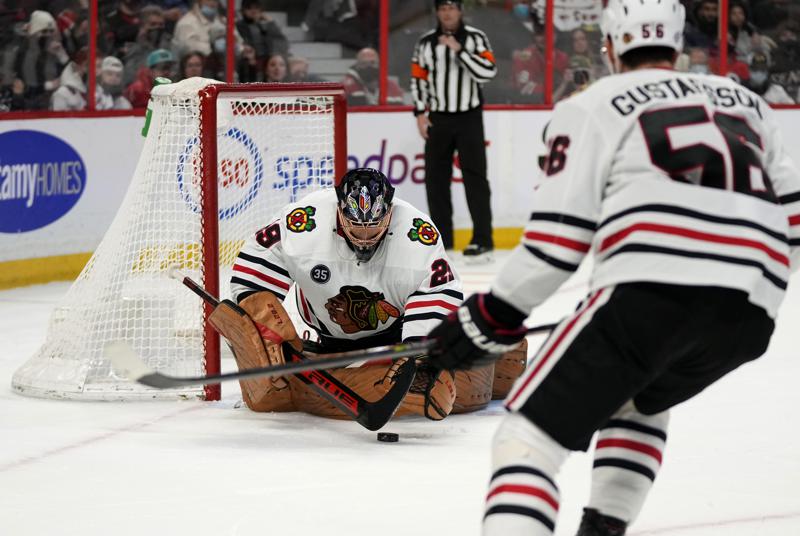 Marc-Andre Fleury may have been the biggest winner at the NHL trade deadline, getting dealt by the rebuilding Chicago Blackhawks to the potentially contending Minnesota Wild.
Minnesota acquired the biggest name available on Monday, adding a three-time Stanley Cup winner. The bold move boosts the Wild's chances of making the playoffs and perhaps making a deep run for the first time since reaching the 2003 Western Conference finals.
The Wild gave up a conditional first-round pick in this year's draft, and Chicago agreed to pay half of what is left on the last year of Fleury's three-year contract.
"It was a very open, collaborative process and Minnesota obviously was a very favorable location for him," Chicago's first-year general manager Kyle Davidson said. "I'm glad we could work out something that worked for the Wild, Marc and also the Blackhawks."
The 37-year-old Fleury, who was 19-21-1 with four shutouts in Chicago, won the Vezina Trophy as the league's top goalie with the Vegas Golden Knights just a year ago. The high-scoring Wild effectively exchanged Fleury for Kaapo Kahkonen, who they traded to San Jose for a fifth-round pick, and gave themselves an option in net other than Cam Talbot.