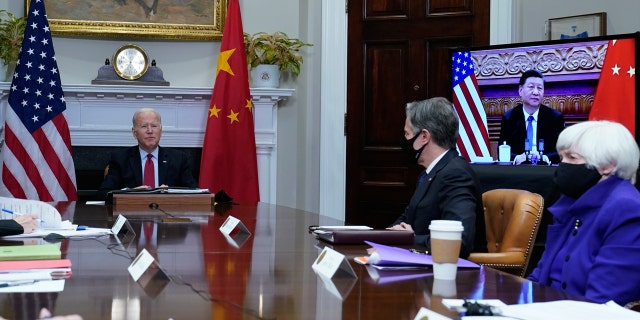 China's President Xi Jinping referred to President Biden as his "old friend" ahead of a highly anticipated virtual summit meeting Monday evening that followed months of tense diplomatic relations between the two nations.
Xi's choice of words to describe his relationship with Biden contradicted the way both the president and White House Press Secretary Jen Psaki have characterized their relationship. Biden has touted his rapport with Xi as an advantage during increasingly fraught diplomatic dealings between the US and China, even as he has disputed the idea they are friends.
"It's the first time for us to meet virtually. Although it's not as good as a face-to-face meeting, I'm very happy to see my old friend," Xi said through a translator at the start of the meeting.
Biden has claimed on multiple occasions to have "traveled 17,000 miles" with Xi during his time as vice president in the Obama administration.
But the president bristled during a June press conference when Fox News' Peter Doocy asked if Biden would call Xi "old friend to old friend" to demand China's cooperation with efforts to investigate the origins of COVID-19.